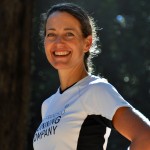 By working one-on-one and developing a personal training plan, I help runners of all ability levels improve and stay motivated to reach their goals and feel better mentally as well as physically.
My approach to coaching emphasizes moderation, injury prevention, and making a training schedule that works with a busy person's real life. My specialty is coaching runners who want to transition from road racing to trail racing, or who want to graduate to marathon and ultra distances. But I have the experience and knowledge to train runners for any distance from the 5K to 100 miles, and I love to coach beginners as well as experienced runners.
I offer coaching in person to clients in the San Francisco Bay Area, and coaching via email/FaceTime/phone to clients outside the region.
Sarah took the guesswork out of having to create a training plan that would allow me to run stronger and faster. Every step of the way, she gave me personal feedback as to how I was doing and further modified her custom plan to fit my progress. She gave me the confidence I needed to believe I could PR at the race because I had steadily trained. I would highly recommend Sarah as a coach! – Sheila Hollander of Piedmont
See my credentials and experience for my qualifications, services and pricing for how it works, and testimonials from clients.
My approach to coaching:
My coaching is based on the fundamentals of the Road Runners Club of America Coaching Certification Program, which emphasizes periodization (development of training cycles that build progressively from base training to peak performance). See related blog post for a description of how I develop training seasons for clients and for myself personally. I bolster my skills and knowledge to coach mountain/ultra/trail running by reading the books and blogs of many of the sport's elite athletes and coaches.
I develop highly customized, goal-specific training plans to strengthen a runner's base and to develop or fine-tune specific skills, such as speed, uphill/downhill running over technical terrain, proper biomechanics, pacing, nighttime running for ultras, refueling/hydration, mental prep for race day and more.
I'm a seasoned competitive runner with a real life outside of running, so I understand the challenge of trying to fit a training schedule into a busy life. My job as a coach is to develop a realistic, flexible plan that works with each client's time and energy constraints.
I became a personal running coach because I believe that running is the most effective, efficient and enjoyable form of exercise, and I want to share my love and knowledge of running with others.
What are some of the benefits of having a coach?
motivation & accountability
assessment of your strengths and weaknesses, progress and potential
enhanced knowledge of how to train properly and avoid injury
helps you "get out of a rut," enjoy running more and reach new athletic goals
I specialize in coaching clients who:
want to develop and reach goals as a long-distance runner and, in the process, improve fitness;
want to transition from road to trail running and reap the myriad benefits of running on trails and over mountains;
want to graduate to a longer, more challenging distance or train for a specific race, be it a half marathon, marathon or ultramarathon (50K to 100 miles), or the unique challenge of a multi-day self-supported stage race.
My Coaching Credentials & Racing Highlights
Please contact me if you're interested in my services.