Runner, Coach & Writer
Welcome! I'm a Bay Area-based runner and writer, and this site spotlights my coaching services and writing portfolio.
I became a certified personal running coach because I believe that running is the most effective, efficient and enjoyable form of exercise, and I want to share my love and knowledge of running with others. By working one-on-one and developing a personal training plan, I help runners of all ability levels get faster and stronger, train smarter, reach new goals, and feel better mentally as well as physically. Please see my coaching page for details.
I also cover the sport of trail/ultra running for Trail Runner magazine, UltraRunnerPodcast.com and other outlets, and I seek freelance feature writing assignments related to running, outdoor adventure, fitness and travel. Please see my portfolio for recently published work and contact me for assignments.
Photo credit: James Richard Kao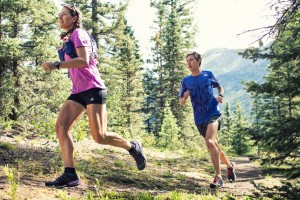 Running & Coaching Background
As a late-blooming athlete now in my mid-40s, I truly enjoy helping other adults discover running—or, helping them get back to it after an extended time off. Since taking up running in 1994, I've raced at distances from the 5K to 100 miles, and twice finished a multi-day, self-supported 170-mile desert-crossing race (both times winning my division and placing in the top three among women). Here's my list of running credentials & racing highlights.
Featured Recently Published Article
"From War and Addiction to a 100K: One Soldier's Rebirth as a Trail Runner," an in-depth profile of a veteran with PTSD and substance abuse who attempts an extremely challenging ultramarathon. Read the Trail Runner article and see additional samples of published work.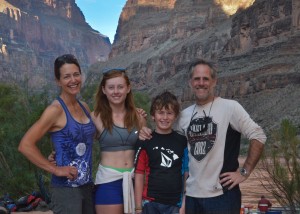 Family Adventure & Travel Writing
My most important job is being a mom to my two teenagers. As a family, we love adventurous and authentic travel, believing it's the best form of education. (This photo shows us during an eight-day Colorado River rafting and camping trip.) In 2009 when the kids were 11 and 8, we went on a year-long trip around the world, during which we reduced our belongings to one bag each and taught the kids the equivalent of 6th and 3rd grade on the road. For samples of my travel writing, see my portfolio or my blog's destinations category.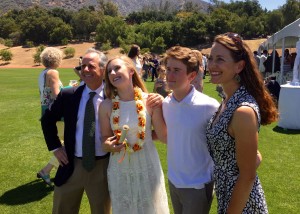 A Bit More About Me …
Yes, I have a life outside of trail running and adventure travel! To learn more about my professional background, please view my LinkedIn profile. This family photo from 2016 shows my daughter Colly (now 18) at her graduation from The Thacher School (where I serve on the Board of Trustees), my son Kyle (15), and my husband of 26 years, Morgan. I'm originally from Ojai (in Southern California), and our family has lived in the East Bay Area town of Piedmont since 2000. We live part time outside of Telluride, Colorado.