Friday, July 10th, 2009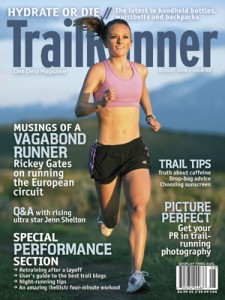 Earlier this year I wrote an article for Trail Runner Magazine, just published in their August issue, called Trail Bloggers: Find Training Tips and Wacky Wisdom on the Blogosphere's Virtual Trails. It's not available online so I'm reprinting an excerpt here to share the links, or you can read the PDF in my portfolio. Want to recommend any must-read running blogs? Then share a link in the comment section below! I already heard from one person: a representative from Team Inov-8. It's true, their blog looks deserving of inclusion in the "Team Spirit" section below, and since I recently started running in Inov-8s with a good deal of satisfaction, I'm happy to recommend them. Here's the story:
Trail runners make great bloggers. Seeking adventure while spending hours in the quiet company of nature, they spin yarns like Twain and wax philosophical like Thoreau. They sweat the details of their sport and yearn to swap information about it. And they tend have a geek streak.
It's no wonder so many trail runners have established a presence online to chronicle their experiences and connect with kindred spirits. The search tool Technorati recently counted over 245 blogs tagged for "trail running" and some 5000 postings on the topic. They're brimming with trail tips, race reports, personal progress, gear gripes and, of course, the meaning of life.  But like the idiosyncratic runners themselves, they're all over the map. Many personal blogs are virtual bogs—unless you really like to read about every mile logged and the runner's gastro-intestinal well-being along the way.
Reading blogs can inspire and inform your own training, but fruitlessly searching for worthwhile ones can drain time better spent outdoors. What follows is a guide to 25 to take you on a trail runner's tour of the blogosphere's incredibly diverse landscape. Think of them as virtual trailheads—good starting points to visit frequently—that link to other paths you might explore as well. (more…)